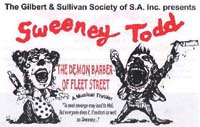 The Arts Theatre (Angas Street, Adelaide)
May 12 – May 16, 2001

Production Team
Director: Richard Trevaskis
Musical Director: Ian Boath

About
Sweeney Todd, a barber in the 19th century London, has been unjustly exiled by a lecherous judge covetous of his wife. Todd returns home after 15 years to exact his revenge. With the aid of the cheerfully amoral Mrs Lovett, proprietress of the struggling meat pie shop located beneath Todd's barber shop. Sweeney wreaks vengeance on all mankind, slitting throats of unsuspecting customers and sending them downstairs to fill Mrs Lovett's meat pies. A frighteningly fun, suspenseful tribute to Victorian melodrama.
Cast
Principals
Sweeney Todd – Ian Muster
Anthony Hope – James Pratt
Beggar Woman – Elizabeth Slee
Mrs Lovett – Tricia Fuller
Johanna – Eleanor Blythman
Judge Turpin – Peter Hopkins
Beadle Bamford – Christopher Stevenson
Tobias Ragg – Michael Denholm
Adolfo Pirelli – Nicolas Lock
Jonas Fogg – Timothy Ide

Chorus
Carolyn Amos, Bernard Boucher, Alistair Brasted, Tom Brennen, Eloise Crooks, Heather Elliott, Daniel Goodburn, Di Griffiths, Louise Hadley, Alison Hansen, Joshua Hillary, Timothy Ide, Carolyn Mesecke, Sydney Moyle, Steve Parker, Wendy Rayner, Kylie Ryan, Renie Walker, Kathy Wardle
Reviews
STEPHEN Sondheim's musical version of Sweeney Todd should be a riproaring, soul-destroying, psychological descent into hell.
The hell of industrialised England, where the souls of the poor and nameless were turned into mincemeat to turn the humanity-crushing wheels of the revolution and fill the crusts of social inequity.
For the Gilbert & Sullivan Society, director Richard Trevaskis has delivered a faithful retelling of the bloody tale of the Demon Barber of Fleet Street that features strong voices from the cast and ensemble under the superb musical direction of Ian Boath, but comes up short on menace.
Ian Muster looks the part as Todd and his singing has never been better - particularly in Pretty Women with Peter Hopkins, who is perfectly distasteful as the lecherous Judge Turpin.
But Muster needs to show more anguish and soul-wrenching torment, reveal more inner demons as he slashes his way to infamy.
Tricia Fuller gives a more than capable performance as the lascivious pie maker, Mrs Lovett.
Her diction and projection - like that of the rest of the cast - is excellent, but she is far too young and un-degraded for this plum role.
Her best moment comes in the tasty duet, A Little Priest, with Muster.
Promising tenor James Pratt plays the young hero Anthony Hope with exuberance and charm, opposite Eleanor Blythman who sings well as Todd's daughter Johanna, but looks and acts uncomfortable in an unsuccessful yellow wig.
Michael Denholm never quite seems to fit the ragged role of the ne'er-do-well Toby, until his touching, ironic duet with Fuller, Not While I'm Around.
There is also some stellar vocal work from Christopher Stevenson as Beadle Bamford, Nicolas Lock as Adolfo Pirelli, and Elizabeth Slee as the mysterious beggar woman.
The ensemble is outstanding with its alternately downtrodden and blood-curdling commentary.
Julia Morris's revolving, evolving set design needs a bigger crew to maintain the momentum of a long evening, while some of Larraine Wheeler's lighting effects over London are awesome, but more attention needs to be paid to separating the upstairs from the downstairs action.
The preview performance showed tremendous potential but the passion and grit that has made this show a hit all over the world needs a hotter oven (with red light inside).
– Matt Byrne