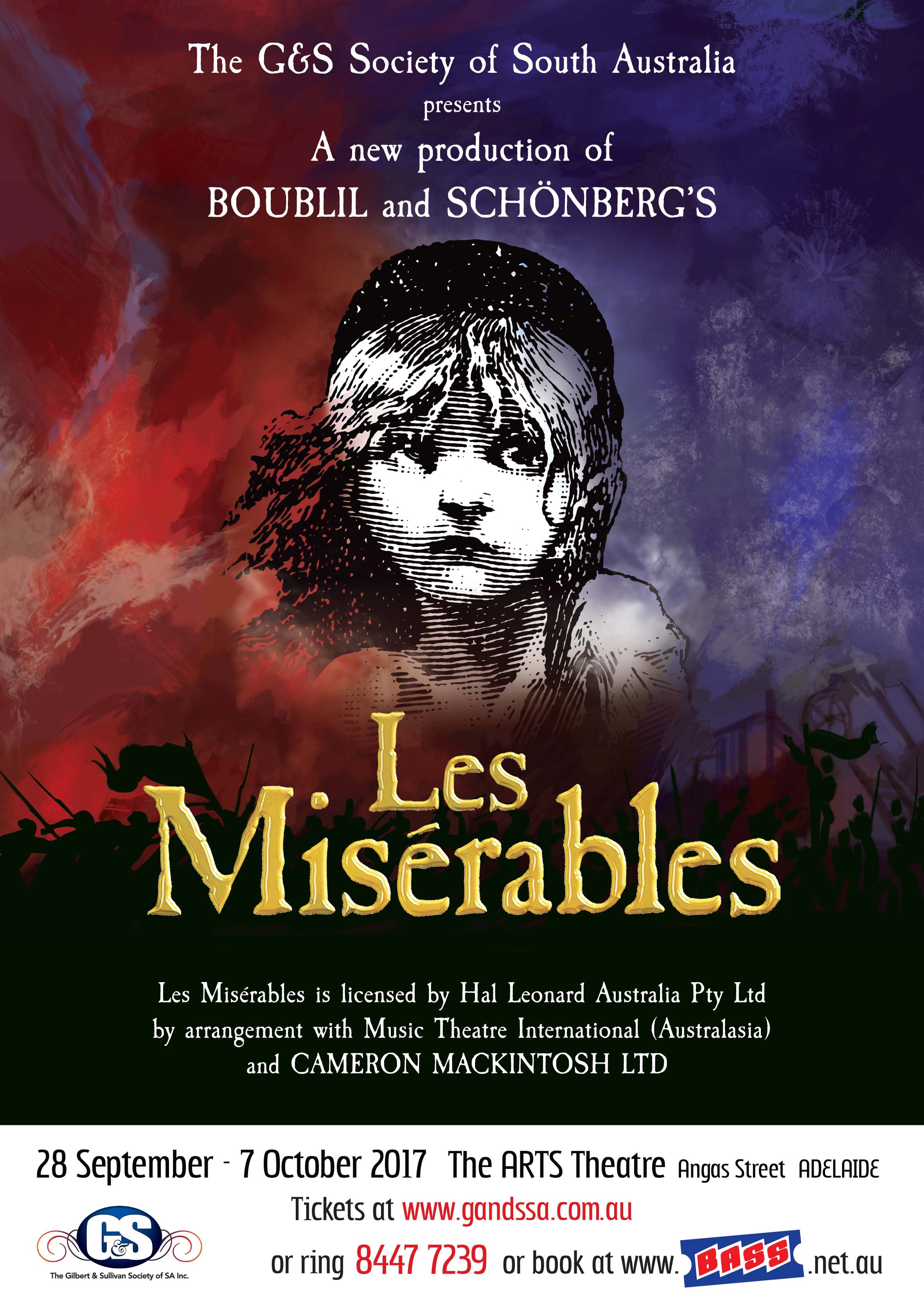 Music by CLAUDE-MICHEL SCHÖNBERG
Lyrics by HERBERT KRETZMER

September 28 – October 7, 2017

Production Team
Director: David Sinclair and Linda Williams
Musical Director: Peter Johns
Production Manager: Kate Russell
Stage Manager: Tim Bates
Costume Designer: Helen Snoswell
Lighting Designer: Jason Groves
Sound Designer: Glenn Hill

About
"Les Misérables is the show of shows!" - Newsweek
The musical phenomenon that is the multi-award winning Les Misérables returns to Adelaide in an all new production in September this year.
Seen by more than 70 million people in 44 countries and in 22 languages around the globe, Les Mis is the longest running musical currently onstage, with the original London production celebrating its 32nd anniversary in October 2017.
Set against the backdrop of 19th-century France, Les Misérables is a powerful affirmation of the power of the human spirit to survive against adversity. It tells an enthralling story of broken dreams, hope, faith, courage, love, sacrifice and redemption.
Ex-convict Jean Valjean is hunted for decades by the ruthless policeman Javert after he breaks parole. When Valjean agrees to care for the dying Fantine's young daughter, Cosette, all of their lives change forever.
Epic, grand and uplifting, Les Misérables packs an emotional wallop. Featuring the songs "I Dreamed A Dream", "Bring Him Home", "One Day More" and "On My Own" Les Misérables is a masterpiece of theatre not to be missed.
The G&S Society of SA
presents

A new production of BOUBLIL and SCHÖNBERG'S
Les Misérables
A musical by ALAIN BOUBLIL and CLAUDE-MICHEL SCHÖNBERG
Based on a novel by VICTOR HUGO
Music by CLAUDE-MICHEL SCHÖNBERG
Lyrics by HERBERT KRETZMER
Original French Text by ALAIN BOUBLIL and JEANMARC NATEL
Additional material by JAMES FENTON
Adapted and originally directed by TREVOR NUNN and JOHN CAIRD
Orchestrations by JOHN CAMERON
Directors: David Sinclair and Linda Williams
Musical Director: Peter Johns
Original London Production by CAMERON MACKINTOSH and THE ROYAL SHAKESPEARE COMPANY
Les Misérables is licensed by Hal Leonard Australia Pty Ltd by arrangement with Music Theatre International and CAMERON MACKINTOSH LTD
Session Times:
Thursday 28 September - Saturday 30 September at 7.30 pm
Saturday 30 September at 1.30 pm
Sunday 1 October at 3.30 pm
Wednesday 4 October - Saturday 7 October at 7.30 pm
Saturday 7 October at 1.30 pm
Ticket Information
Adult  $35
Conc (pensioner/Senior student/unemployed)  $29
Child (under 18) $20
Groups 10+   $27     Groups 50+ $25
Cast
Principals
Jean Valjean – Mark Oates
Javert – Andrew Crispe
Fantine – Casmira Hambledon
Cosette – Emma Haddy
Eponine – Jennifer Trijo
Marius – Josh Angeles
Monsieur Thenardier – Kent Green
Madame Thenardier – Vanessa Lee Shirley
Enjolras – Dave MacGillvray
The Bishop of Digne – AJ Angeles
Combeferre – Jared Frost
Courfeyrac – Lachlan Williams
Feuilly – Damien Quick
Prouvaire – Nathan Quadrio
Grantaire – Buddy Dawson
Student – William Richards
Student – Henry Davis
Gavroche – Oscar Bridges/Daniel Milton
Young Cosette/Eponine – Mary Blacker/Alicia Hammond/Ariel Higgs

Chorus
Michael Butler, Tom Dubois, Stephen Tulip, Danny Watkins, Tom Fraser, Gavin Lloyd Jones, Angus Davidson, Tim Blackshaw, Luke Mitchell, Meegan Kildea, Ashleigh Rathjen, Wendy Rayner, Lucy Carey, Lucy Trewin, Em Carter, Ruby Pinkerton, Sandy Wandel, Trish Hendrick, Lucy Russell Byrne, Tegan Gully, Grace Frost, Darcy Bensted, Renie Walker, Chloe Hall, Maya Miller, Victoria Coxhill, Georgia Broomhall, Natalie Lambert
Reviews
2017_lesmiserables
http://www.stagewhispers.com.au/reviews/les-mis-sa
http://www.glamadelaide.com.au/main/theatre-review-les-mi...
https://www.broadwayworld.com/adelaide/article/BWW-Review...
http://www.adelaidenow.com.au/entertainment/arts/gilbert-...